Photo Booth Express offers a wide variety of photo booth enhancements to further add to your guest's enjoyment of the experience. Have questions about any of the enhancements? Can't decide or ready to book? Contact us here or call us today at 877-492-6684.
Photo Booth Guestbook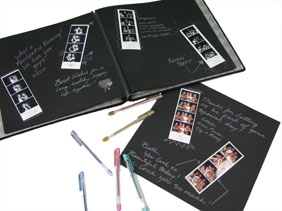 The Photo Booth Express Guestbook is a great way to capture all the fun of your special event and best wishes from your guests. In the years to follow you'll look back at all the smiling faces of your guests and remember what a great event it was, much better than a book of signatures. Have questions about a Photo Guestbook? Contact us here or call us today at 877-492-6684.
Includes:
A photo strip of their images for your guest to keep
A photo strip to go in your photo scrapbook for your guests to sign
Scrapbook and all necessary materials provided (paper, markers, glue, etc.)
"The photobooth was a hit! Looking back through the scrapbook has already brought us so many laughs and memories from the night."  
– Jen S, Wedding Photo Booth
"This photo booth was wonderful. All of my friends loved it, and they took photos multiple times! It was a great way to preserve memories from the day. I also could not get over how friendly our photo booth attendant was. I would not hesitate to get this, and I would also add the scrapbook option. We received it at the end of the evening, and over the past few days, I have looked at it about ten times!"
– Jane C, Wedding Photo Booth
Double Prints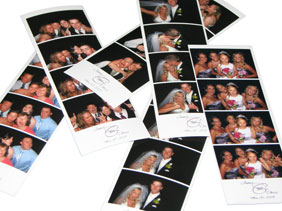 Two prints of every photo strip so your guests can hold on to one and you can keep one for yourself.
Photo Booth Props
People can get pretty wild and creative in the photo booth if left to their own devices, but throw in some hats, sunglasses, boas, and other props and see how wild the party gets.
42" Video Monitor
With a 42" video monitor outside the booth you can display all the antics going on in the booth, as they happen, as well as a slideshow of all the photos taken throughout your event. Sometimes watching all the photo booth craziness can be just as entertaining as being in the booth.
Big Screen Video Projection
For larger events the booth pictures can be displayed on a 6'x8' or 9'x12' front or rear projection screen for everyone to see.
VIP Treatment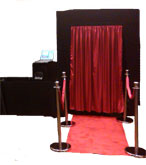 With the VIP Treatment your guests will feel like stars as they walk down the red carpet past the velvet ropes to enter your photo booth.
Custom Color Curtain and Backdrop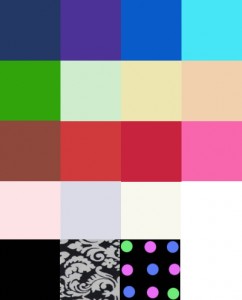 The standard photo booth curtain color is red; however, if you would like to color coordinate your photo booth with your event color scheme, custom color curtains and backdrops are available.
Acrylic Photo Booth Picture Frames

We have specially made 2"x6" and 4"x6" clear acrylic frames available to give your guests so they can proudly display their photo strips from your event.
Vinyl Bookmark Sleeves
We have specially made 2"x6" clear vinyl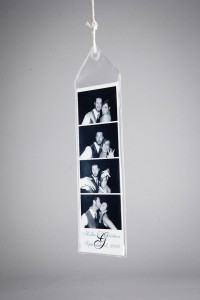 sleeves / bookmarks so your guests can protect their photo strips. You can place one at each table setting with a special insert to let your guests know about the photo booth. Makes for great favors!
Custom Graphics
We work with a fantastic designer who can come up with amazing graphics for your photo strip to match your event theme.
Call us today at 877.492.6684 or contact us here for more info on our photo booth enhancements or to reserve Photo Booth Express for your event.