When was the last time you sat down with your closest friends or family in a photo booth? Was it at an amusement park, adrenaline rushing from gravity defying ride? Or at the local roller rink, candy in one hand, glow stick in the other. Maybe even just on a whim between kiosks at the mall. The idea of a photo booth brings a sense of nostalgia to many, and a smile to all that walk out from behind the curtain.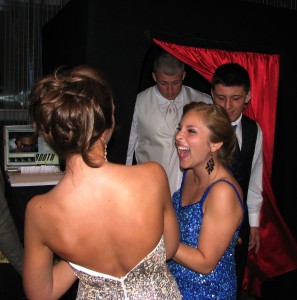 Used most commonly to obtain photos for IDs in countries like Japan and France, Americans have taken the concept of the photo booth and turned it into an amusement. Within the past decade, photo booths have moved out of common areas and into banquet halls. Photo booths are becoming a staple at many events, especially proms and weddings, and for good reason.
Photo booths are an all-encompassing addition to any event. The opportunity itself is a great side alcove to bring people together and give them a reason to smile. Photo booth pictures paired with a few well wishes upgrades the ordinary guest book.
The traditional strips of black and white photos are now an option, rather then the norm. Modern photo booths give you a chance to personalize your photo layout (2×2 rather then a single vertical strip), color or black and white, or even add your own message and custom design. The resulting photos provide favors for the night by capturing all those candid moments that make the best souvenirs.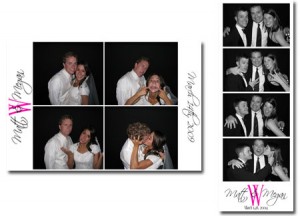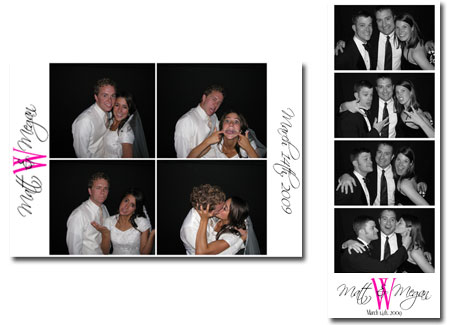 As with many things, size matters. Photo booth vendors offer traditional bench-style booths that will probably be most familiar. A more modern option is a portable booth with a changeable curtain to match with any events décor. Fitting up to ten people and wheel-chair accessible, this style of photo booth really adheres to the idea of the more the merrier.
A photobooth is not just a camera, but also a chance to remember the faces that made your special day that much more extraordinary.
Photo Booth Express has all the above features and more. Check out our packages to see what would work with your event to make it picture perfect, or call us at (877) 492-6684.