Joanie and Brian made a splash at their wedding reception with their own Photo Booth Express wedding photo booth!
Photo Booth favors make great place cards
Guests first got the hint that there would be a photo booth as entertainment when they arrived at the Marriot Resort Oakbrook Hills. The couple used acrylic picture frames as their table assignments.
Using frames as table assignments is a great way to encourage your guests to use the photo booth, as well as double as an inexpensive wedding favor.
Incorporate your theme into your photo booth frame favors
The couple personalized their inserts with shells and fish to match their tropical theme.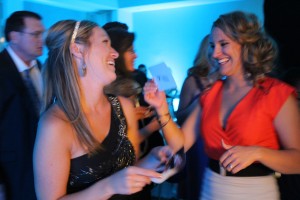 Groups of guests hopped in the booth with an assortment of props, provided by Photo Booth Express. With boas, masks, and more, the pictures family and friends took got more and more creative.
The silly pictures paired with warm wishes made a guest book that Joanie and Brian would cherish till the tides came in.
Congrats to the picture perfect couple!
Interested in a Chicago Wedding Photo Booth and fun for your special event?
Contact us at 877-492-6684 or click here to check the availability of your date.