Photo Booth Express and MDM Entertainment sponsored the 2011 Chicago Biz Bash Expo and Event Style Awards for event planners last week. We got the chance to meet and mingle with event planners from all over Chicago and the Midwest. As always, the photo booths were a huge hit. We had a steady stream of event planners and other special event vendors in and out of the booths all day long. Everyone had a great time with the booths and had some great souvenirs of the day to take home with them.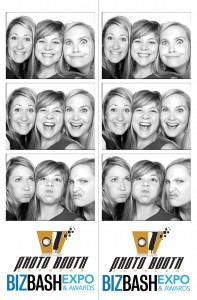 Judging by the overwhelming response from the planners we talked to the Facebook feature of our Classic Booth is going to go over huge at corporate and private events. The Facebook feature allows the photo booth users to post their pictures directly to their Facebook page from the event as well as email themselves a digital copy. A lot of people were also interested in the video messaging feature.
The Express Booth received a lot of  praise for it's ability to hold large groups of people and it's portability.
Both booths have the ability to add custom graphics to the photo strips which make them great favors at private events or perfect giveaways for corporate branding events. Give us a call today to determine which photo booth would be the best for your event.
Thanks to all the event planners for coming out and stopping by! You can see all of  your photo booth pictures here or on Facebook of course.